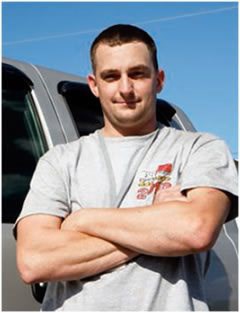 Dustin Mintern, Owner
I was born and raised in Northeastern Ohio and lived and worked on farms and at my parents' German Shepherd kennel from a young age. Bought my first truck when I was 12 and have been buying and working on cars and trucks since then.
I joined the Marine Corps after high school and became a T-58 Helicopter Engine Mechanic. I spent 2 years in Okinawa, Japan and a month in South Korea before returning to the US in September 2006. I went to Iraq and then became Quality Assurance Inspector and Work Center Supervisor. I am used to demanding and performing top quality work that people's lives depend upon.
I bought my first diesel truck in 2007 (2005 Chevy 2500HD) and quickly pushed its stock parts beyond their limit and starting modifying it. Just before completing my 5 year enlistment, in April 2008, I started Diesel Addiction. I am looking forward to my future in the Diesel Performance industry - building relationships with other diesel enthusiasts and helping customers build their trucks to their satisfaction.
I got married in September 2009. My wife, Kelly Mintern, helps with the administrative side of the business. She keeps things organized so I can focus on all of the customer's needs.
Dustin's Daily Driver
Diesel Addiction also installs everything we sell - from intakes and exhausts to custom turbo setups and engine builds. We also do all types of vehicle maintenance from fluid changes to injector replacement. Call us for a quote and to schedule an appointment.
To ensure we give each customer and truck the attention and time that they deserve and get scheduled jobs done in a timely manner, Diesel Addiction services are now by appointment only. We're sorry for any inconvenience this causes you, but please call or email us to set up your appointment.